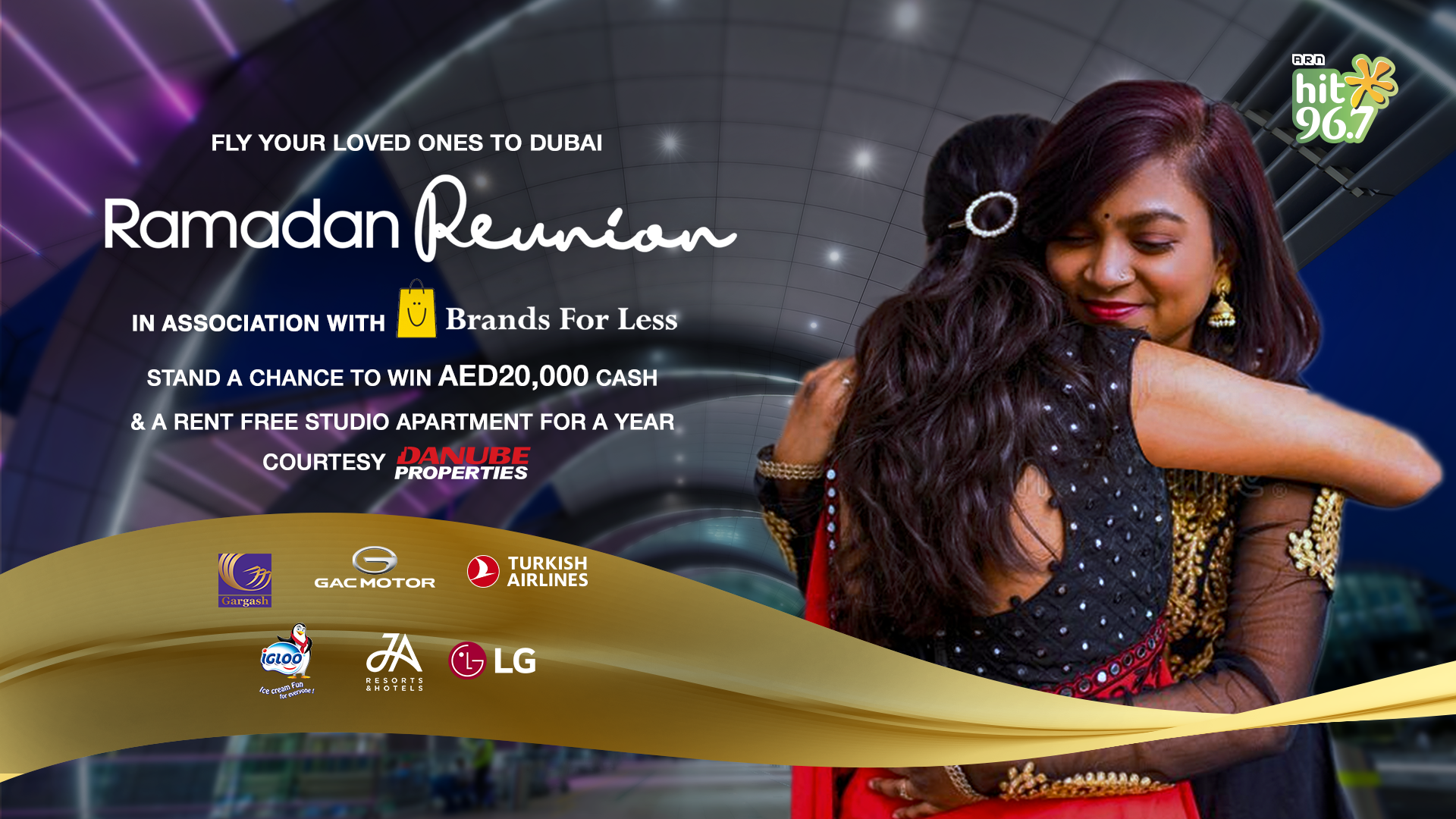 When was the last time you were reunited with a member of your loved one?
This Ramadan, we're doing something special; bringing YOUR family together. Which loved one will you bring to our home, here in the UAE for an incredible holiday?
We are giving Flights, a premium hotel stay with access to all the amazing things that make Dubai special.
Our Sponsors
Terms and Conditions
The Ramadan Reunion campaign dates are 12th – 15th April

The winner will be contacted & consulted before booking the flights

The arrival date is fixed which is 12th of April and the flight time will be decided by the Travel agency in consultation with ARN.

The winner will agree to the layover time involved in the booking of the trip. All flights will be via Turkey as flights are being booked on Turkish Airlines.

The winner/family will be contacted to choose their departure date as per their convenience.

Once the departure flight is booked it cannot be changed or re-scheduled. If the winners wish to change this date, they may do so with Adrenaline Travel Agency at their own expense.

If the winner wishes to reschedule the departure trip, then their credit card details will be asked for guarantee/security purposes.

The winner cannot overstay the 30-day Visa period for Dubai and will result in monetary and legal actions.

All PNR numbers related to this campaign have to be booked and scheduled with the travel agency. No rescheduling can be done directly with the airline.

The winner has 48 hours to confirm the flight bookings and send in their documents. Failure to do so within the time limit mentioned, another winner will be selected.

Any added extension/stopovers in the flights are not part of the deal for this promotion.

The hotel stay will only be provided from the 12th April to 15th April. A total of 3 nights & 4 days.

The hotel stay will be provided with breakfast. Lunch, dinner &/or other F&B in & outside of the hotel premises will be at the expense of the winner and not borne by the agency and/or ARN.

Any additional hotel expenses outside of the deal for example and not limited to: local & international phone calls, laundry, extra bed in the room etc. will be borne by the winner and not by the agency &/or ARN.

An itinerary for the duration of the stay will be provided by ARN and the winner to abide by this itinerary.

Local & airport transfers will be provided to the destinations which are part or the itinerary and the campaign.

Any local trips outside of the itinerary will be borne by the winner.

Terms & Conditions apply.