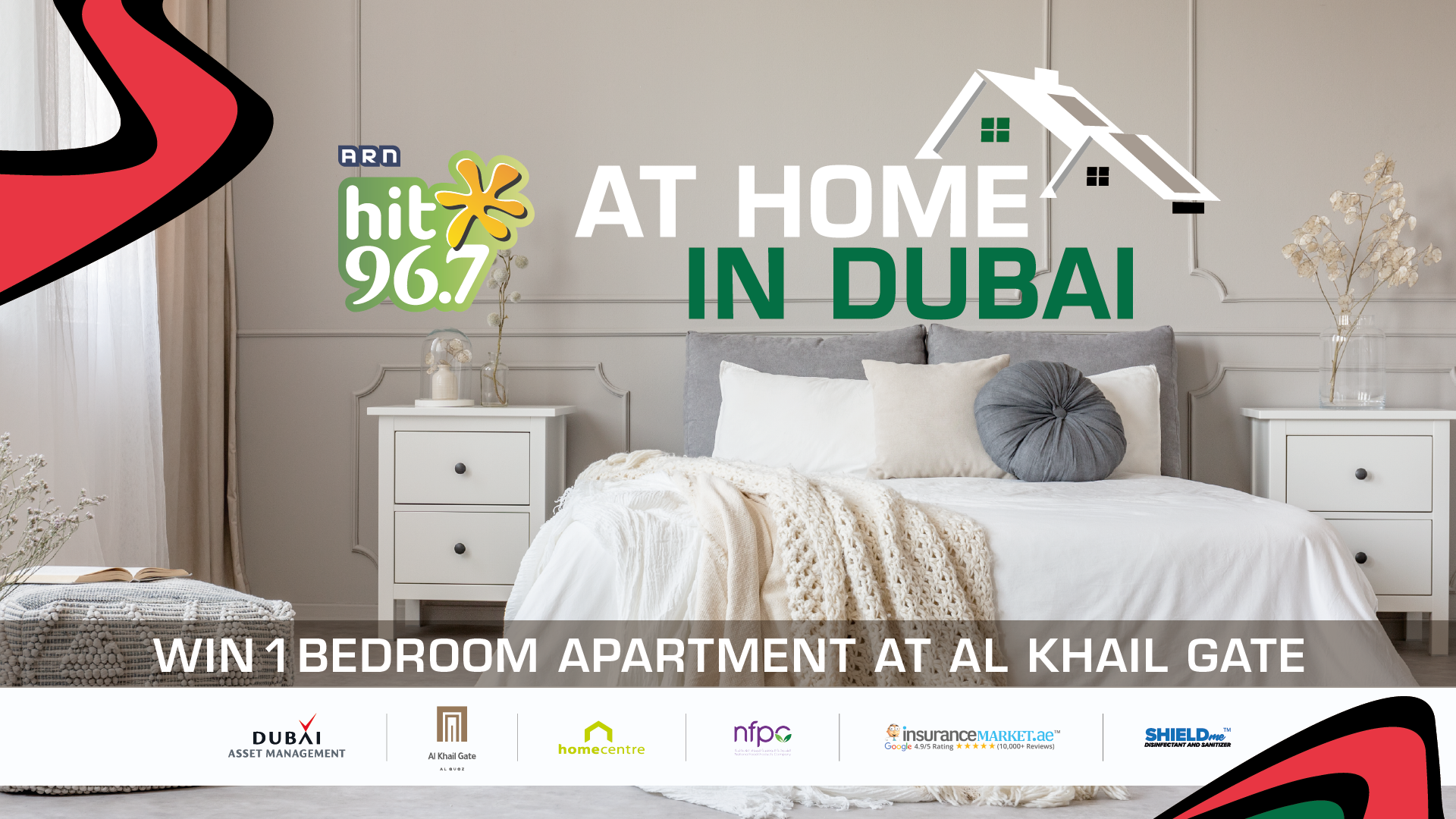 HIT 96.7 FM is giving you a chance to win a 1 BEDROOM APARTMENT at Al Khail Gate Dubai completely RENT FREE for 1 YEAR!
Tune in all day to guess the secret sound and go into the draw.
At the end of two weeks only ONE lucky winner will walk away with the apartment.
in partnership with
The winner
Final Draw for At home in dubai #AtHomeInDubai Thanks to Dubai Asset Management In partnership with NFPC Group Home Centre InsuranceMarket.ae Shieldmeglobal #Shieldme #Shieldmeglobal

Posted by Hit 96.7 FM on Thursday, August 13, 2020
the sounds
SOUND 23:
SOUND 22:
WRONG ANSWERS
1. Typewriter
2. Keyboard
3. Calculator
SOUND 21:
WRONG ANSWERS
1.Mixie working
2. Charcoal for barbeque burning
SOUND 20:
SOUND 19:
WRONG ANSWERS
1. Sand paper scrubbing
2. Tooth brushing
SOUND 18:
WRONG ANSWERS
1. Water falling into bucket
SOUND 17:
WRONG ANSWERS:
1. Wrapping with a masking tape.
SOUND 16:
WRONG ANSWERS
1. Walking on dry leaves
2. Cement mixing sound
3. Hair cutting
SOUND 15:
SOUND 14:
WRONG ANSWERS
1. Lighting the stove and keeping a vessel on it
2. Lift opening
3. Soda can opening
SOUND 13:
WRONG ANSWERS
1. Cleaning with brush
2. Washing machine sound
3. Keyboard
SOUND 12:
SOUND 11:
WRONG ANSWERS
1. Bullet bike starting
2. Carrot grating
3. Motor pump
SOUND 10:
WRONG ANSWERS
1. Pouring water
2. Oil frying
SOUND 9:
WRONG ANSWERS
1. Spoon dropping in a cup
2. Ice cube dropped in a cup
3. Coin dropping
SOUND 8:
WRONG ANSWERS
1. Water flowing out of a gallon bottle
2. Vacum cleaner sucking up dirt
SOUND 6:
WRONG ANSWERS
1. Toilet flushing
2. Machine grinding
3. JWH - Mixer
SOUND 5:
WRONG ANSWERS
1. Spoon tapping on table
2. Paper flipping
3. Camera click
SOUND 4:
SOUND 3:
WRONG ANSWERS
1. Pencil sharpner
2. Sweeping the courtyard
3. Rubber tapping
SOUND 2:
WRONG ANSWERS
1. Metal sheet
2. Lottery raffle
3. Shutter opening
4. Vehicle starting
SOUND 1: