Dubai Electricity and Water Authority (DEWA) has reported H1 2022 revenue of AED 12.08 billion and net profits of AED 3.30 billion, an increase of 33 per cent year-on year (YoY), while second quarter results showed a net profit of AED 2.61 billion.
DEWA's first half revenue increase of 15 per cent was mainly driven by an increase in demand.
Energy demand in Dubai during the first half of 2022 increased by 6.3 per cent compared to the same period in 2021.
Energy consumption in the first half of 2022 reached 23.27 TWh compared to 21.9 TWh in the first half of 2021 with nearly 10 per cent being generated from solar power. Water demand in the same period grew by 6.4 per cent.
DEWA's peak demand in the first half of 2022 was 9.4 GW, which represents a 7 per cent increase over the same period of last year.
By the end of the second quarter, DEWA served 1,126,121 customers, representing a 5.12 per cent increase YoY.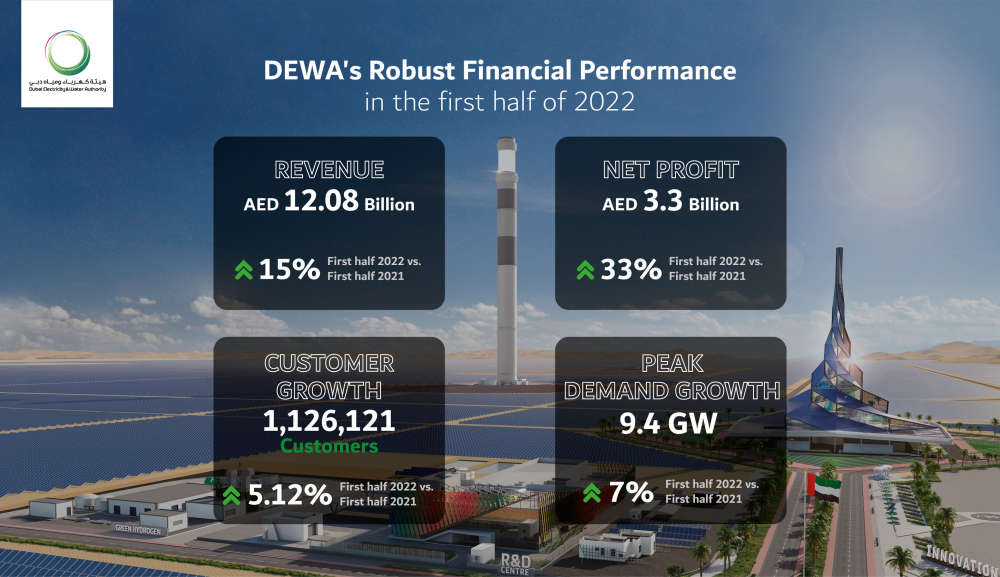 DEWA's majority owned subsidiary, EMPOWER, also demonstrated record growth in segmented revenue and profit. In the first 6 months of the year EMPOWER's revenue was 1,154 million AED and net profit was 432 million AED, representing a 16% and 11% increase respectively versus the same period in 2021.
Dubai Electricity and Water Authority PJSC's revenue increases 15% to AED 12.08 billion. 3.30 billion net profit in the first half of 2022#DEWAAchievements pic.twitter.com/7srMSPJLPY

— DEWA | Official Page (@DEWAOfficial) August 11, 2022