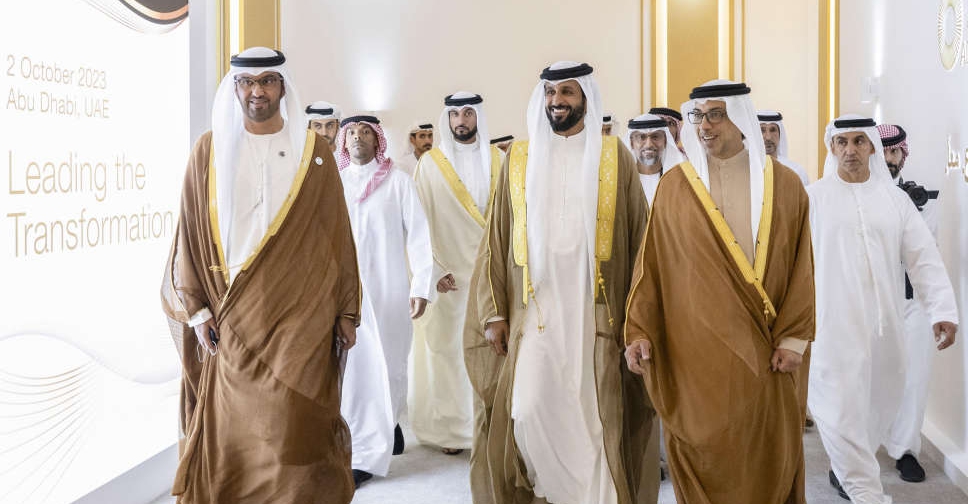 His Highness Sheikh Mansour bin Zayed Al Nahyan, the UAE's Vice President, Deputy Prime Minister and Chairman of the Presidential Court, today opened the 39th edition of the Abu Dhabi International Petroleum Exhibition and Conference (ADIPEC).
Hosted by ADNOC under the theme "Decarbonising. Faster. Together.", ADIPEC builds on its nearly four-decade legacy as an inclusive platform, facilitating dialogue across the entire energy ecosystem, fostering partnerships and inspiring game-changing solutions towards a cleaner, more secure energy future.
Sheikh Mansour hailed the huge efforts made by President His Highness Sheikh Mohamed bin Zayed Al Nahyan to enhance the UAE's leading strategic position globally in the energy sector.
He also emphasised the importance of this year's conference activities, which are tailored for the strategic objectives of COP28, to be hosted by the UAE in about seven weeks.
While attending the conference events, Sheikh Mansour met with several global leaders in the energy sector. He also attended a key ministerial session, which shed light on a group of strategic topics related to the world's energy supplies.
With a comprehensive conference and exhibition programme designed in response to the challenges and needs faced across the energy value chain, ADIPEC 2023 hosts more than 1,600 speakers, including government ministers, CEOs, policymakers, energy experts, and innovators.
برعاية رئيس الدولة..افتتحنا اليوم النسخة 39 من معرض ومؤتمر "أديبك 2023"..والذي يهدف إلى تعزيز التعاون الدولي استعداداً لاستضافة الإمارات للعالم في "COP28"وبناء منظومة طاقة مستقبلية منخفضة الانبعاثات تواكب المتطلّبات والتحديات المستقبلية وتتماشى مع رؤية الإمارات للنمو المستدام pic.twitter.com/DaypxxFIgs

— منصور بن زايد (@HHMansoor) October 2, 2023
ADIPEC has opened today with an even bolder ambition, connecting industry peers, potential partners, buyers, experts and other key stakeholders from around the world and from across the energy value chain. pic.twitter.com/xaKffNccdA

— ADIPEC (@ADIPECOfficial) October 2, 2023