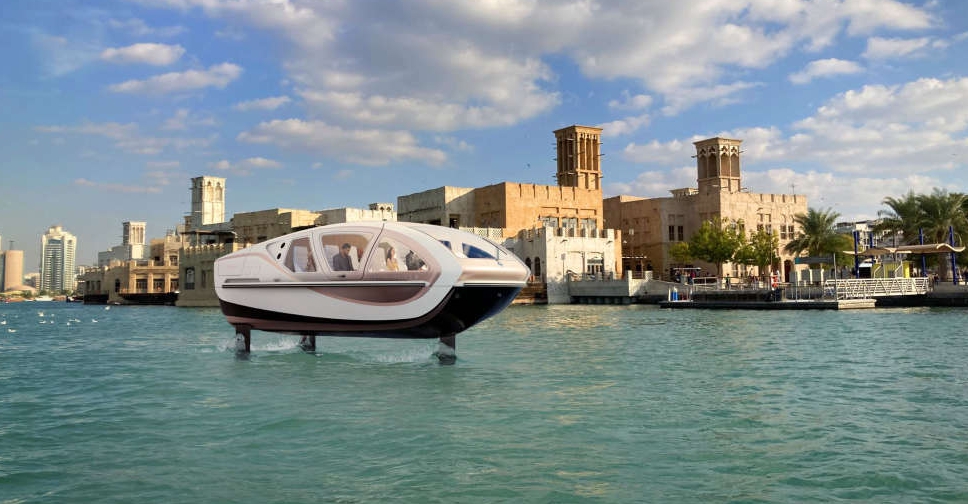 Supplied
The UAE's first flying boat is a reality and could soon be manufactured locally courtesy of a new memorandum of understanding (MoU) signed at the region's most-popular leisure marine event.
It may look like a futuristic prop from a sci-fi movie, but visitors to Dubai International Boat Show 2022 need not adjust their sets.
Inspired by the Emirates' pearl-diving heritage, the sustainability-focused X-Pearl - a brainchild of innovative French firm SeaBubbles - is powered by a hybrid hydrogen-electric propulsion system and retractable foils available for purchase.
While scaled models of both its flagship H2 and the X-Pearl were unveiled on Wednesday at Dubai Harbour, the company hopes to have the limited-edition UAE model zipping along Dubai Creek, Dubai Canal, or Abu Dhabi Corniche before next year's COP28.
That vision moved one step closer at the 28th edition of the Dubai International Boat Show as SeaBubbles capitalised on the nautical showpiece to ink an MoU with local solutions provider Al Masaood Power Division.
The agreement will see both parties collaborating to pilot and assess the performance of hydrogen-powered flying boats, manufacture and maintain operations in the Emirates, and retrofit existing boats with SeaBubbles' sustainable powertrain system.
"The Dubai International Boat Show is iconic, so it felt like the perfect opportunity to reveal the X-Pearl to an international audience and showcase that we are moving towards this ecological transition together with Al Masaood," said Virginie Seurat, Vice President of SeaBubbles.
"The MoU agreement marks another step forward in terms of driving hydrogen mobility in the UAE. With COP28 coming to the Emirates next year, we are very excited to strengthen our local ties."
SeaBubbles' crafts can carry up to 12 passengers and a pilot, making them ideal for a range of water mobility solutions: electric passenger vessel, zero-emission water taxi, VIP shuttle, or even inter-city transfers.
It produces minimal wake and water disturbance and provides a solution for eco-tourism sightseeing tours in protected areas such as the Eastern Mangroves wetland reserves.
"This is the return of the Dubai International Boat Show after two years, so while the show starts a new cycle, we also start something new and exciting with this partnership with SeaBubbles," said Rasso Bartenschlager, General Manager of Al Masaood Power Division.
"The X-Pearl, by emitting only water, demonstrates our commitment to sustainable solutions, and we are honoured to sign this ground-breaking partnership that will help drive green mobility for future generations."
SeaBubbles' innovative tech promises a more ecological future courtesy of its hydrogen fuel cells, which generate the electricity supply for the internal systems and propulsion pods, while a battery pack supports it during flight.
This hybrid concept ensures 100 per cent reliance on renewable energy sources, while its foils reduce wetted surface area and thus power usage, leading to a craft 35 per cent more power-efficient than a regular boat. Both the H2 and the X-Pearl can reach speeds of up to 50kph.
Dubai International Boat Show 2022 runs until March 13 at Dubai Harbour, the event's Venue Host and VIP Registration Partner.