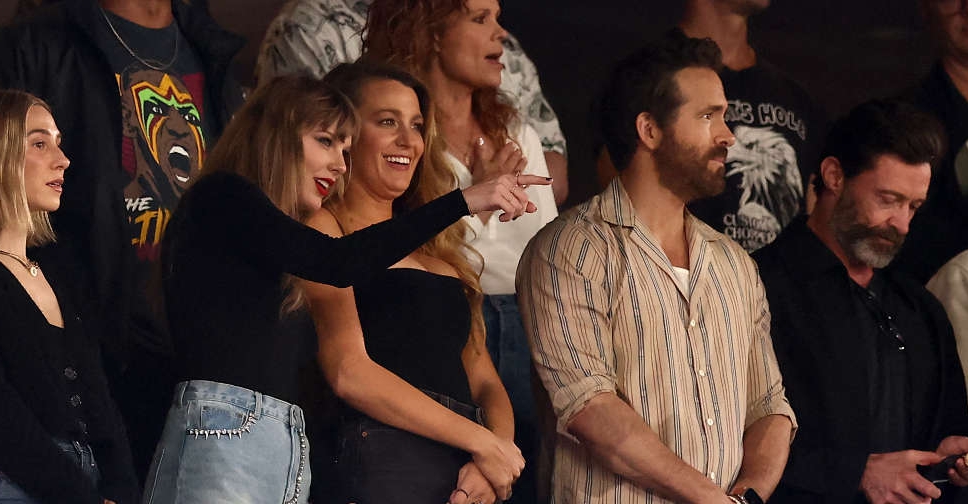 Pop megastar Taylor Swift was just a spectator on Sunday at New Jersey's MetLife Stadium, but she was still the star of the show as she watched her rumoured beau, Kansas City Chiefs tight end Travis Kelce, face the New York Jets.
With several celebrity friends joining her - including actors Ryan Reynolds, Blake Lively and Hugh Jackman - the singer saw the defending champion Chiefs eke out a 23-20 victory.
Swift's attendance at the Chiefs' last two games - last week, she joined Kelce's mom, Donna, in Missouri to watch the Chiefs beat the Bears - has sent the National Football League's ticket sales and television viewership soaring.
NBC's cameras did not show Swift quite as often as last week's broadcast did, but viewers got plenty of glimpses of her high above the field in a luxury suite. As the Chiefs scored the first touchdown of the game - running back Isaiah Pacheco, not Kelce, crossed the goal line - the network panned to Swift hugging companions in celebration.
Unlike last week, when she sported a red-and-white Chiefs jacket in Missouri, Swift - who lives in New York City - wore a black top and leather jacket in the more hostile environs of the Jets home stadium.
Sunday Night Football is already the country's most-watched primetime show, but anticipation for Sunday's game reached a fever pitch as Swift's cultlike fanbase, known as "Swifties," eagerly awaited her appearance.
Jets ticket sales for their game against the Chiefs soared, with sales in a single day more than doubling the previous record for this season, according to StubHub, a ticket resale platform. Sunday's game was the second-highest selling game of the NFL season after the season opener, Stubhub said.
The cheapest nosebleed seat tickets for Sunday's game in East Rutherford, New Jersey, were going for $81 on Sunday afternoon, while resale tickets at the lower level cost close to $9,000.
Swift, 33, has sold out football stadiums across the United States over the last several months as she embarked on the domestic leg of her international, record-breaking Eras Tour.
Advertisements for the upcoming Eras concert film, opening in theatres next month, ran on NBC ahead of the game broadcast. Gambling sites offered several Swift-themed bets before kickoff; FanDuel users could bet against Kelce scoring a touchdown, a wager titled the "FriENDZONE".
Ahead of Sunday's game, Sunday Night Football on NBC posted a promotional video on X with Swift's song Welcome to New York playing in the background and the caption, "Taylor Made for Sunday Night".
Viewership for the Chiefs' September 24 game, when Swift first attended, spiked 63 per cent week-over-week among women ages 18-49, Swift's prime fan demographic.
Swift and Kelce have played coy on the nature of their relationship. Kelce spoke briefly about Swift this week when his brother, Jason, who plays for the Philadelphia Eagles, jokingly asked him on their podcast: "How's it feel that Taylor Swift has finally put you on the map?"
"Shout out to Taylor for coming through and seeing me rock the stage," said Kelce, who described her as looking "amazing" and dubbed Swift's enthusiasm during the game and the excitement of Chiefs fans at seeing her there as "absolutely hysterical".