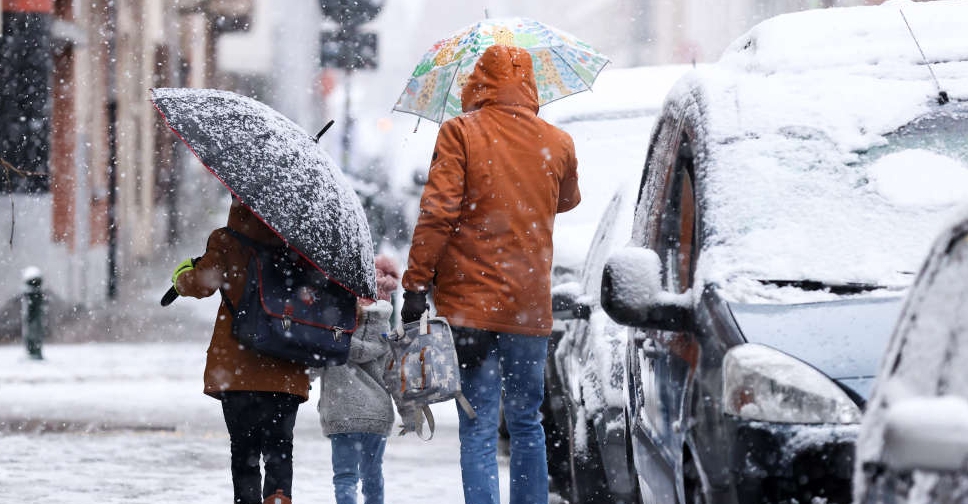 AFP
The UK is set to experience more snowfall on Thursday as the country remains in the grip of an Arctic blast.
According to forecasters, snow storms are expected to hit large parts of central and northern England, accompanied by "strong winds bringing blizzard conditions".
An amber warning has been issued, predicting heavy snowfall causing significant disruption. The warning, issued by the Met Office, will be in effect from 15:00 GMT on Thursday until midday on Friday. The warning means that road and rail delays are likely, and some people may be left stranded. There is also a possibility of power cuts and some rural communities being cut off.

Experts have predicted that 10-20cm of snow will fall across the area, with some places experiencing up to 30-40cm of snow. The UK has already recorded its coldest March temperature since 2010.

The snow has already caused disruption for some evening rush-hour commuters. National Highways has warned drivers in the West Midlands and the east of England between 15:00 GMT and midnight on Wednesday to check ahead and plan for disruption.

Dozens of flights were suspended and schools closed on Wednesday due to the snow, as temperatures in the Scottish Highlands dropped to -15.4°C, the coldest night of the year so far, and the Met Office warned of travel disruptions and power cuts in rural areas in the north.

Bristol Airport was temporarily closed for snow clearing and Gatwick Airport experienced minor delays.

The UK is set to experience more snowfall, with the potential for significant disruption. The public is advised to check for updates from the Met Office and plan accordingly to avoid being stranded or affected by the predicted power cuts.
Flights to and from the UAE currently remain unaffected. The ARN News Centre has reached out to local airlines for further udpates.