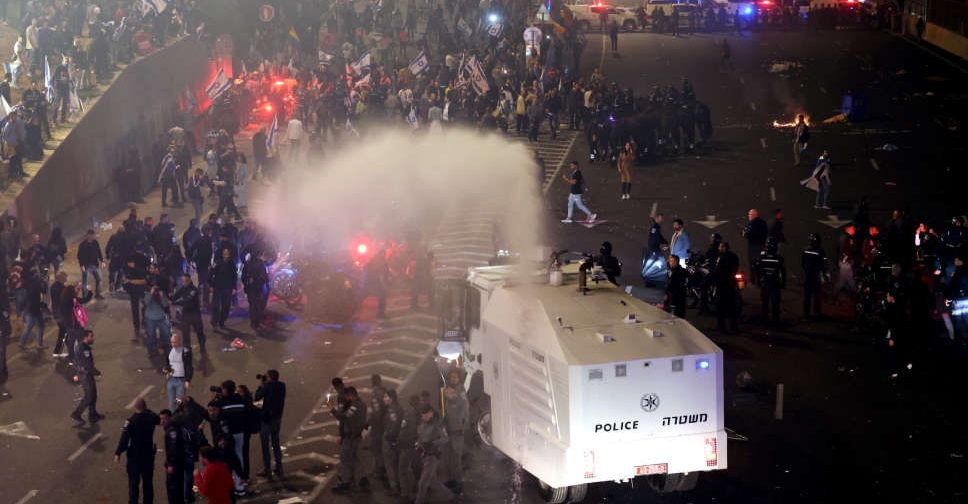 AFP
Israeli Prime Minister Benjamin Netanyahu is set to halt his bitterly contested judicial overhaul, an official from his Likud party said on Monday, a day after the sacking of his defence chief over the plan sparked mass street protests.
Israel's Channel 12 TV reported Netanyahu would announce a halt to the overhaul at 10:30 am (0730 GMT).
Earlier, President Isaac Herzog urged the government to call a halt to the planned legislation, which has ignited some of the biggest nationwide demonstrations in Israel's recent history.
"For the sake of the unity of the people of Israel, for the sake of responsibility, I call on you to stop the legislative process immediately," Herzog said on Twitter.
As pressure grew on Netanyahu, who is expected to make a statement on Monday morning, reports that the overhaul would be halted were carried across Israeli media.
The warning from the head of state followed a dramatic night of protests in cities across Israel, with tens of thousands pouring out on the streets following Netanyahu's announcement that he had dismissed Defence Minister Yoav Gallant.
A day earlier, Gallant had made a televised appeal for the government to halt its flagship overhaul of the judicial system, warning that the deep split it had opened up in Israeli society was affecting the military and threatening national security.
As trading opened on Monday, the shekel, which has seen big swings over recent weeks as the political turbulence has played out, fell 0.7 per cent in early trading before recovering some ground as expectations grew the legislation would be halted.
The judicial overhaul, which would give the executive control over appointing judges to the Supreme Court and allow the government to over-ride court rulings on the basis of a simple parliamentary majority has drawn mass protests for weeks.
While the government says the overhaul is needed to rein in activist judges and set a proper balance between the elected government and the judiciary, opponents see it as an undermining of legal checks and balances and a threat to Israel's democracy.
As well as drawing opposition from the business establishment, the project has caused alarm among Israel's allies. The United States said it was deeply concerned by Sunday's events and saw an urgent need for compromise, while repeating calls to safeguard democratic values.