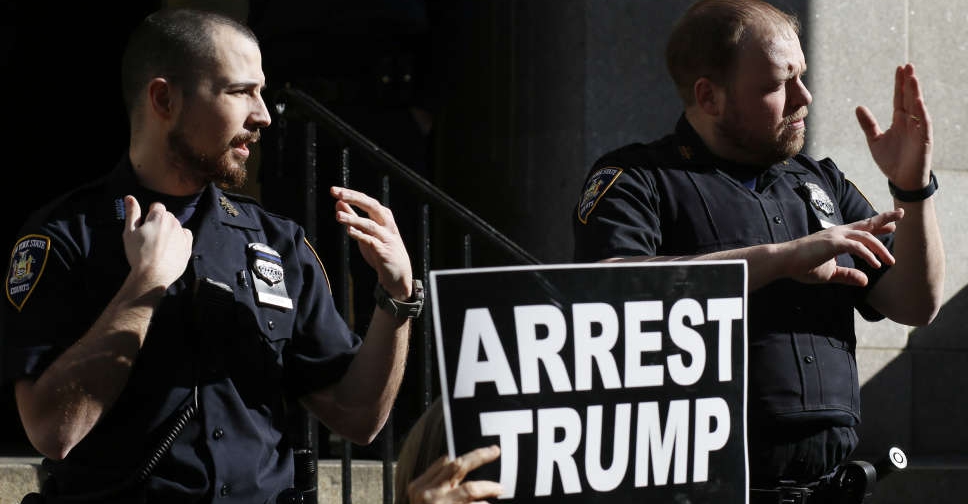 Workers erected barricades around a Manhattan courthouse on Monday as New York City braced for a possible indictment of Donald Trump over an alleged hush-money payment to an adult film star during his 2016 campaign.
It would be the first-ever criminal case against any US president. On Saturday, Trump urged followers on social media to protest what he said was his looming arrest.
In his call for protests, Trump raised concerns for law enforcement that supporters might engage in violence similar to the January 6, 2021, attack on the US Capitol in Washington.
Fearing a trap, however, several far-right grassroots groups have opted not to heed his call, security analysts said.
A grand jury, which heard further testimony on Monday, could bring charges as soon as this week. Trump, who is seeking the Republican nomination for the White House again in 2024, had predicted he would be arrested on Tuesday.
On Monday, the grand jury heard from a witness, lawyer Robert Costello, who said Trump's former fixer Michael Cohen had handled the hush-money payments without Trump's involvement.
"Michael Cohen decided on his own - that's what he told us - on his own, to see if he could take care of this," Costello told reporters after testifying to the grand jury at Trump's lawyers' request.
Cohen, who testified twice before the grand jury, has said publicly Trump directed him to make the payments on Trump's behalf.
An indictment could hurt Trump's comeback attempt. Some 44 per cent of Republicans say he should drop out of the presidential race if he is indicted, according to a seven-day Reuters/Ipsos poll that concluded on Monday.
The investigation by Manhattan District Attorney Alvin Bragg is one of several legal challenges facing Trump. His office did not immediately respond to a request for comment.
Cohen pleaded guilty in 2018 to federal campaign finance violations tied to his arranging payments to Daniels, whose legal name is Stephanie Clifford, and another woman in exchange for their silence about affairs they claimed with Trump.
Trump has denied that any such affairs took place.
The Manhattan District Attorney's office had asked that Cohen be available as a rebuttal witness, but he was told on Monday afternoon that his testimony was not needed, according to his lawyer Lanny Davis. Cohen told MSNBC he had not been asked to return on Wednesday.