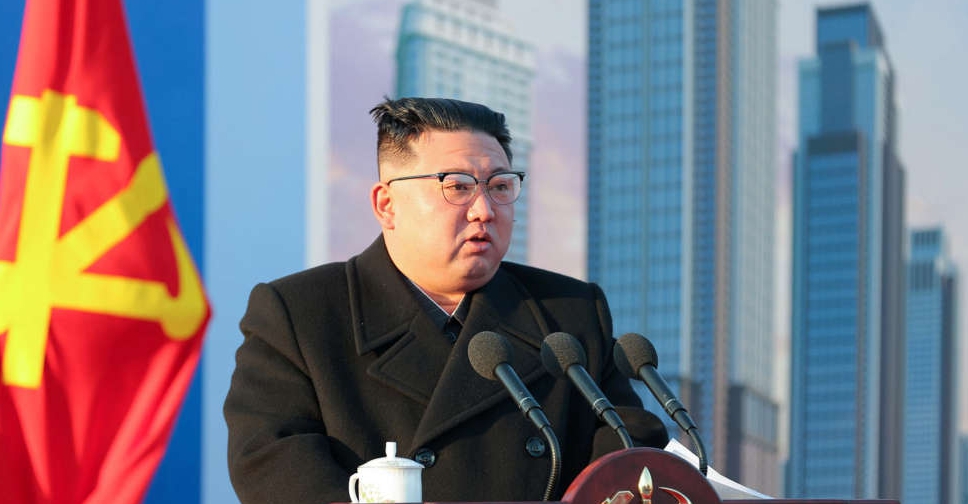 AFP
North Korea's Kim Jong Un ordered the military to intensify drills to deter and respond to a "real war" if necessary, state media said on Friday, after the leader oversaw a fire assault drill that it said proved the country's capabilities.
North Korea fired a short-range ballistic missile off its west coast on Thursday, South Korea's military said, adding it was analysing possibilities the North may have launched multiple missiles simultaneously from the same area.
Photos released by the North's KCNA news agency showed at least six missiles being fired at the same time.
KCNA said a unit trained for "strike missions" fired a "powerful volley at the targeted waters" and demonstrated its capability to "counter an actual war."
"(Kim) stressed that the fire assault sub-units should be strictly prepared for the greatest perfection in carrying out the two strategic missions, that is, first to deter war and second to take the initiative in war, by steadily intensifying various simulated drills for real war ...," KCNA said.
Kim was accompanied by his young daughter who has appeared recently in a series of major events.
South Korean President Yoon Suk Yeol said South Korea would step up combined military drills with the United States and enhance joint planning and execution of US extended deterrence against the North's nuclear and missile threats.
"We will build an overwhelming response capability and retaliation posture," Yoon said at a commissioning ceremony for naval academy graduates in the southeastern city of Changwon, adding that the security situation surrounding the Korean peninsula was "more serious than ever."
Seoul has been seeking to strengthen extended deterrence, the ability of the US military to deter attacks with its nuclear umbrella, amid growing calls within South Korea for the country to develop its own nuclear capability to counter North Korean threats.
The latest missile launches came as the United States and South Korea were set to kick off large-scale military exercises known as the Freedom Shield drills next week. North Korea has long bristled at the allies' drills as a rehearsal for invasion.
North Korean leader Kim's sister, Kim Yo Jong, said earlier this week any move to shoot down one of its test missiles would be considered a declaration of war and blamed the joint military exercises for growing tensions.
Yang Uk, a research fellow and defence expert at Seoul's Asan Institute for Policy Studies, said North Korea has been increasingly claiming that its smaller missiles are nuclear-capable, in apparent threats to South Korea.
"North Korea doesn't appear to have developed miniaturised nuclear warheads to be loaded on cruise or tactical ballistic missiles yet, but it's clear that's where they are headed to," Yang said.
The United States will hold an informal meeting of United Nations Security Council members next week on human rights abuses in North Korea, a move likely to anger Pyongyang and spur opposition from China and Russia.