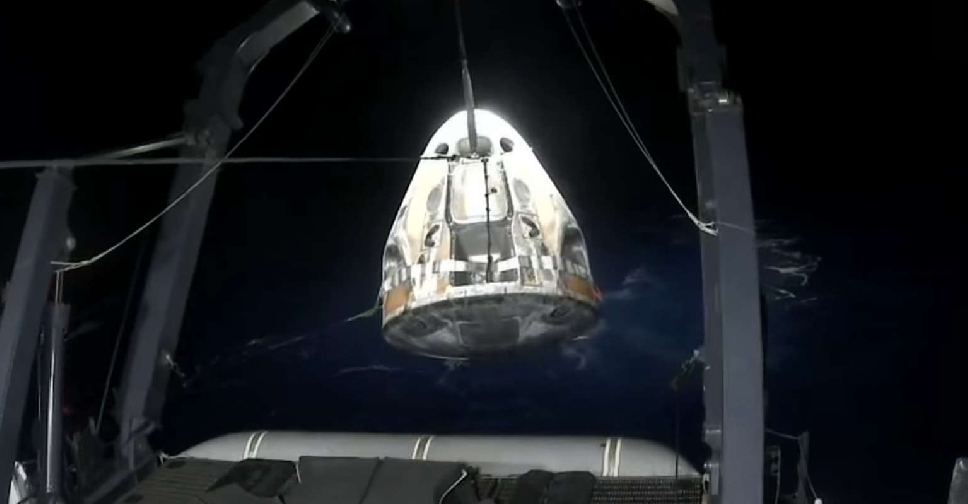 Twitter: @NASA
An astronaut team of two Saudis and two Americans, including the first Arab woman sent into orbit, splashed down safely off Florida on Tuesday night, capping an eight-day research mission aboard the International Space Station (ISS).
The SpaceX Crew Dragon capsule carrying them parachuted into the Gulf of Mexico off the coast of Panama City, Florida, after a 12-hour return flight and blazing re-entry plunge through Earth's atmosphere.
The splashdown was carried live by a joint webcast presented by SpaceX and the company behind the mission, Axiom Space.
It concluded the second space station mission organized, equipped and trained entirely at private expense by Axiom, a 7-year-old Houston-based venture headed by NASA's former ISS program manager.
The Axiom 2 crew was led by retired NASA astronaut Peggy Whitson, 63, who holds the US record for most time spent in orbit with 665 days in space over three long-duration missions to the ISS, including 10 spacewalks. She now serves as Axiom's director of human spaceflight.
"That was a phenomenal ride. We really enjoyed all of it," Whitson radioed to mission controllers moments after splashdown.
Ax-2's designated pilot was John Shoffner, 67, an aviator, race car driver and investor from Alaska.
Rounding out the crew as mission specialists were the first two astronauts from Saudi Arabia to fly aboard a private spacecraft - Ali Alqarni, 31, a fighter pilot for the Royal Saudi Air Force; and Rayyanah Barnawi, 34, a biomedical scientist in cancer stem-cell research.
Barnawi is the first woman from the Arab world ever launched into Earth orbit and the first Saudi woman to fly in space.
You can watch the Ax-2 Mission return below: