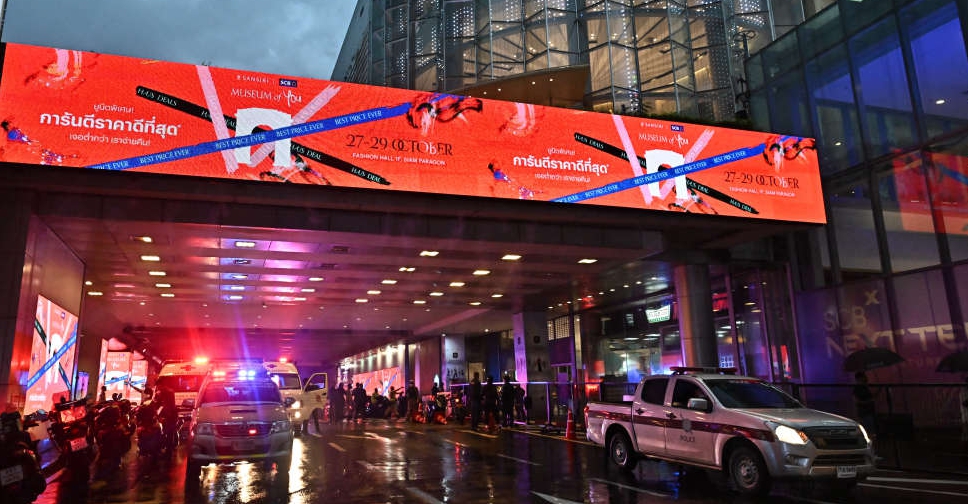 Thai police arrested a teenage gunman suspected of killing two foreigners and wounding five people on Tuesday in a shooting spree at a luxury Bangkok mall.
It's the latest high-profile gun violence to rock the country in recent years.
The emergency services corrected an earlier statement that three people had died in the incident.
Hundreds of people, including children, were seen screaming and racing into the streets after gunshots rang out at the Siam Paragon mall, a major shopping and entertainment venue popular with tourists in Bangkok's crowded commercial heart.
Police said two women had been killed, from China and Myanmar, and five others wounded.
National police chief Torsak Sukvimol said the suspected shooter was 14 years old and had been receiving psychiatric treatment, but had skipped his prescribed medicine on the day of the incident.
"We have spoken to his parents," Torsak told reporters.
"The suspect said that someone was telling him to shoot others."
Fleeing shoppers were ushered by security guards from the mall into torrential rain and towards a road with heavy traffic. Verified social media footage showed some rushing towards the exit of a ground-floor supermarket, screaming as the sound of a gunshot is heard.
"It happened in just a few minutes. We saw all the people run, run, run, we didn't understand what was happening," said 26-year-old Shir Yahav from Israel, who was at a designer store at the time of the shooting.
"We heard several shots, like six or seven shots."
Gun violence and gun ownership are not uncommon in Thailand and the incident comes a year after an ex-police officer killed 35 people, including 22 children at a nursery, during an hours-long gun-and-knife attack. He later shot himself dead at home.
In 2020, a soldier shot and killed at least 29 people and wounded 57 in a rampage that spanned four locations around the northeastern city of Nakhon Ratchasima.