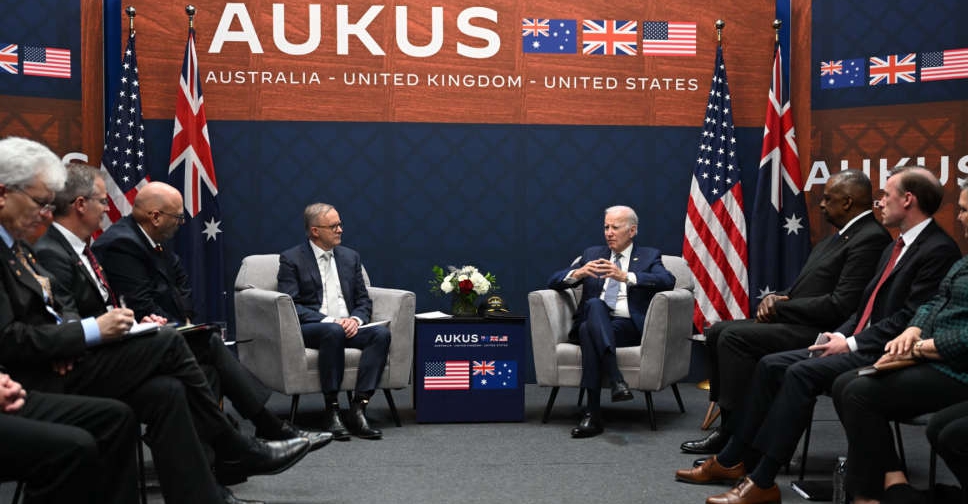 AFP/ JIM WATSON
The United States, Australia and Britain, on Monday, unveiled details of a plan to provide Australia with nuclear-powered attack submarines from the early 2030s.
Addressing a ceremony at the U.S. naval base in San Diego, accompanied by Australian Prime Minister Anthony Albanese and British Prime Minister Rishi Sunak, U.S. President Joe Biden called the agreement under the 2021 AUKUS partnership part of a shared commitment to a free-and-open Indo-Pacific region with two of America's "most stalwart and capable allies".
Sunak called it "a powerful partnership," adding, "for the first time ever it will mean three fleets of submarines working together across the Atlantic and Pacific keeping our oceans free...for decades to come."
Under the deal, the United States intends to sell Australia three U.S. Virginia class nuclear-powered submarines, which are built by General Dynamics, in the early 2030s, with an option for Australia to buy two more if needed, a joint statement said.
It said the multi-stage project would culminate with British and Australian production and operation of a new submarine class - SSN-AUKUS - a "trilaterally developed" vessel based on Britain's next-generation design that would be built in Britain and Australia and include "cutting edge" U.S. technologies.
Britain would take delivery of its first SSN-AUKUS submarine in the late 2030s, and Australia would receive its first in the early 2040s. The vessels will be built by BAE Systems and Rolls-Royce.
"The AUKUS agreement we confirm here in San Diego represents the biggest single investment in Australia's defence capability in our history, strengthening Australia's national security and stability in our region," Albanese said at the ceremony.
An Australian defense official said the project would cost A$368 billion ($245 billion) by 2055.
AUKUS will be the first time Washington has shared nuclear-propulsion technology since it did so with Britain in the 1950s.
Biden stressed that the submarines would be nuclear-powered, not nuclear armed: "These boats will not have nuclear weapons of any kind on them," he said.
China has condemned AUKUS as an illegal act of nuclear proliferation. In launching the partnership, Australia also upset France by abruptly cancelling a deal to buy French conventional submarines.
Asked if he was worried China would see the AUKUS submarine deal as aggression, Biden replied "no." He said he expected to speak to Chinese leader Xi Jinping soon, but would not say when.
The agreement will see U.S. and British submarines deployed in Western Australia as soon as 2027 to help train Australian crews and bolster deterrence. U.S. officials said this would involve four U.S. submarines and one British in a few years.
This first phase of the plan is already underway with the U.S. Virginia-class nuclear-powered attack submarine Asheville visiting Perth in Western Australia, officials said.