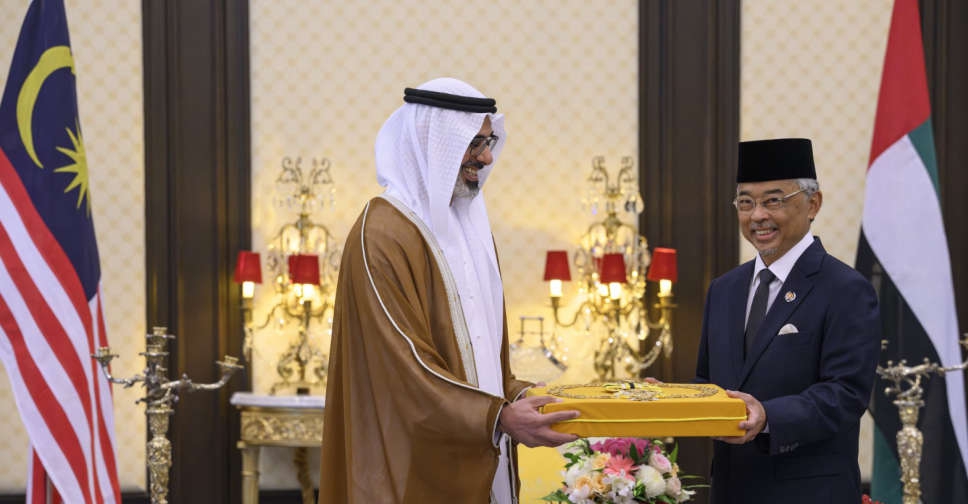 Abu Dhabi Media Office
Abu Dhabi's Crown Prince His Highness Sheikh Khaled bin Mohamed bin Zayed Al Nahyan has been honoured by the King of Malaysia for his efforts to strengthen ties between the UAE and Malaysia.
During a royal reception at the Istana Negara Palace in Kuala Lumpur, King Al-Sultan Abdullah Sultan Ahmed Shah awarded two ceremonial medals to Sheikh Khaled.
He was awarded the Darjah Kaerabat Sri Indera Mahkota Pahang Yang Amat Dihormati (Most Esteemed Royal Family Order of Pahang) and the Seri Maharaja Mangku Negara (Most Esteemed Order of the Defender of the Realm).
Sheikh Khaled also signed the Istana Negara guest book, expressing his appreciation for the warm hospitality and highlighting the UAE's commitment to further strengthening ties with Malaysia.
The Abu Dhabi Crown Prince, accompanied by King Al-Sultan later took a helicopter tour of Kuala Lumpur's landmarks.
King Al-Sultan Abdullah of Malaysia has awarded Khaled bin Mohamed bin Zayed, Crown Prince of Abu Dhabi, two ceremonial medals that recognise His Highness' role in strengthening the deeply-held ties of friendship between the UAE and Malaysia. pic.twitter.com/aMabcjAJwt

— مكتب أبوظبي الإعلامي (@ADMediaOffice) May 23, 2023
King Al-Sultan Abdullah Sultan Ahmed Shah of Malaysia has received Khaled bin Mohamed bin Zayed, Crown Prince of Abu Dhabi, at the Istana Negara palace in Kuala Lumpur as part of the Crown Prince's official visit Malaysia. pic.twitter.com/lv7qNjspaR

— مكتب أبوظبي الإعلامي (@ADMediaOffice) May 23, 2023
Also attending the meeting were Suhail Mohamed Al Mazrouei, Minister of Energy and Infrastructure; Dr. Thani bin Ahmed Al Zeyoudi, Minister of State for Foreign Trade; Mohammed Ali Al Shorafa, DMT Chairman; and Ahmed Jasem Al Zaabi, ADDED Chairman. pic.twitter.com/AEK8KUytgQ

— مكتب أبوظبي الإعلامي (@ADMediaOffice) May 23, 2023