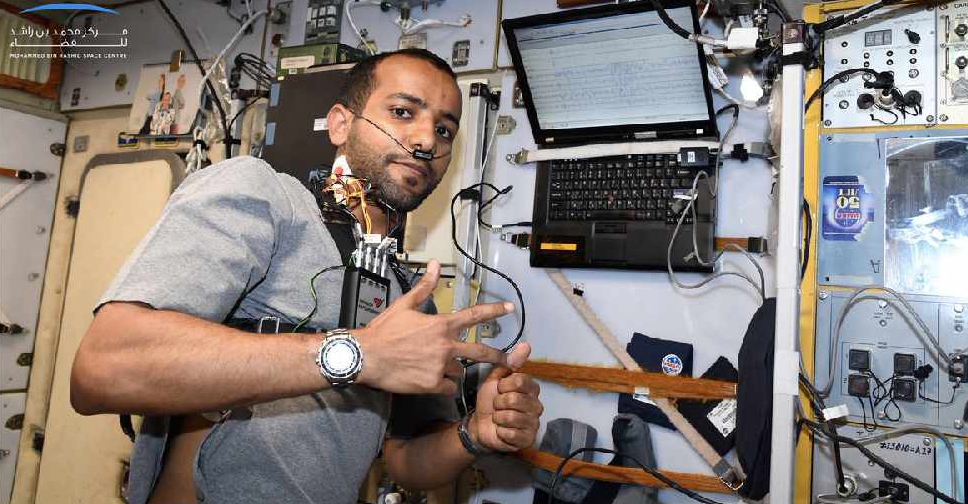 @MBRSpaceCentre/ Twitter
Emirati astronaut Hazzaa Al Mansoori is returning to Earth on Thursday after eight days at the International Space Station (ISS).
He is due to touch down in Kazakhstan around 3:00 pm UAE time.
Hazzaa will be joined by American astronaut Nick Hague and Russian commander Alexey Ovchinin on the journey home.
They will be travelling in a Soyuz MS-12 spacecraft and it will take them nearly three-and-a-half hours to land after leaving the ISS.
Salem Al Marri, Assistant Director-General for Scientific and Technical Affairs at the Mohammed Bin Rashid Space Centre (MBRSC) told ARN News that the astronauts will be welcomed by a team of doctors, upon landing.
Before starting his trip, Hazzaa shared a selfie from the space station, and also a night view of the UAE.
Hazzaa AlMansoori sends you his selfie from space! pic.twitter.com/RiEJT8X3Yq

— MBR Space Centre (@MBRSpaceCentre) October 2, 2019
Night view of the #UAE taken by @astro_hazzaa from the @Space_Station pic.twitter.com/B3jRNyOCDg

— MBR Space Centre (@MBRSpaceCentre) October 2, 2019
From #Space to #Earth, get to know the landing phases for #HazzaaAlMansoori's return from the #ISS, and don't forget to tune in LIVE tomorrow on @dubaitv at 2:30PM to witness the journey. https://t.co/KzooZY4V3u pic.twitter.com/EOo8ZXIqLE

— MBR Space Centre (@MBRSpaceCentre) October 2, 2019