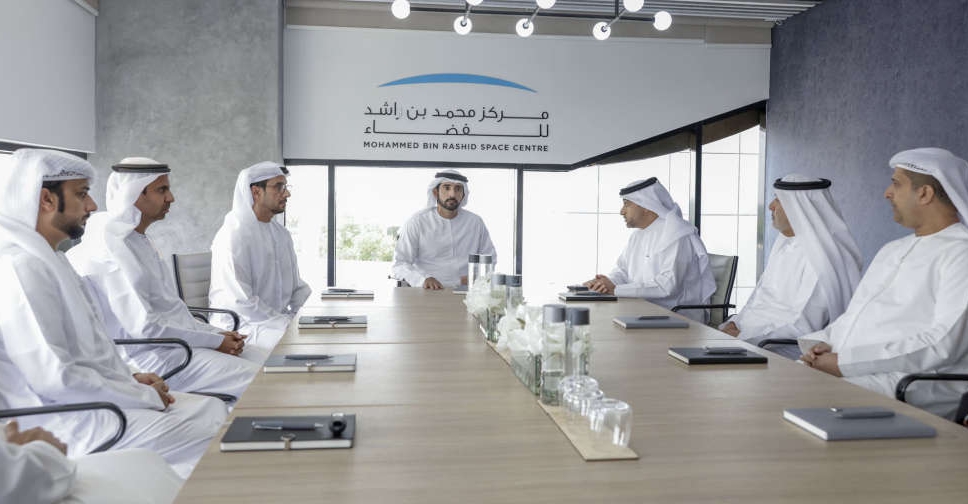 His Highness Sheikh Hamdan bin Mohammed bin Rashid Al Maktoum, Crown Prince of Dubai and Chairman of The Executive Council has emphasised the UAE's ambitions to be a major player in shaping the future of space exploration.
During a meeting of the Mohammed bin Rashid Space Centre's (MBRSC) Board of Directors on Monday, Sheikh Hamdan was briefed about the Centre's ambitious missions and future programmes.
"In the next phase of our journey, we are set to implement exceptional projects that will open new horizons for space exploration. The UAE's rapidly advancing space sector is poised to evolve into a significant global contributor in the field, drawing from the rich expertise, knowledge and strategic partnerships we have acquired through unique initiatives and missions," said Sheikh Hamdan.
I chaired a board meeting of the @MBRSpaceCentre and laid out the blueprint for new ambitious initiatives.

The next phase of our journey will see groundbreaking Emirati space ventures.

We aim to be a major player in shaping the future of space exploration.

We seek to raise the… pic.twitter.com/BcZGofmOMS

— Hamdan bin Mohammed (@HamdanMohammed) October 2, 2023
Updates on programmes and missions
Sheikh Hamdan was briefed on the success of the longest Arab space mission, led by UAE astronaut Sultan AlNeyadi and the UAE's collaboration with international space agencies and leading local and international universities.
The mission included over 200 experiments.
The meeting also discussed next steps for the UAE Astronaut Programme, and the training of astronauts Mohammad AlMulla and Nora AlMatrooshi who were selected to train alongside 10 NASA astronauts.
AlMulla and AlMatrooshi will be ready for space missions upon their graduation from the programme in 2024.
Sheikh Hamdan reviewed the latest satellite building projects, which aim to design, build and operate advanced earth-monitoring satellites, including the MBZ-SAT, which upon its launch next year will be the most advanced commercial satellite in the region in the field of high-resolution satellite imagery.
With 90 per cent of its mechanical structure and 50 per cent of its electronic modules built locally, MBZ-SAT will be the second satellite to be built entirely by Emirati engineers, following KhalifaSAT.
His Highness was also briefed on the progress of the Rashid Rover 2 project, the UAE's latest mission to the moon, which was announced in April 2023.
The mission will build on the achievements of the previous project to design and build the world's most compact rover 'Rashid Rover', which became the first Emirati and Arab rover to reach the lunar orbit before the landing attempt onboard iSpace's HAKUTO-R lander.
The board meeting also discussed the satellite Payload Hosting Initiative, a joint effort by MBRSC and the United Nations Office for Outer Space Affairs (UNOOSA) to advance capacity-building and promote space science and technology in developing countries.
Sheikh Hamdan reviewed the latest developments related to the 'Hope Probe', including its unprecedented accomplishments which helped uncover secrets of Mars.