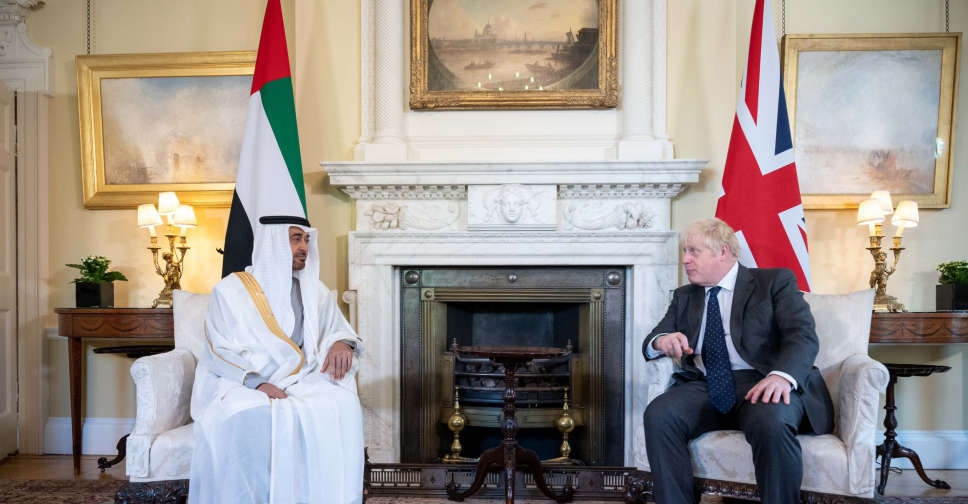 @MohamedBinZayed/ Twitter
His Highness Sheikh Mohamed bin Zayed Al Nahyan, Crown Prince of Abu Dhabi and Deputy Supreme Commander of the UAE Armed Forces, held talks with British Prime Minister Boris Johnson, on Thursday.
Sheikh Mohamed, who is on an official visit to the UK was welcomed by Johnson at 10 Downing Street.
The two leaders discussed the historic ties and joint strategic cooperation between the UAE and the UK, as well as ways to enhance relations in the best interest of the two sides.
The discussions also focussed on several regional and international issues of mutual interest.
Johnson welcomed the visit of Sheikh Mohamed to Britain and emphasised that "it represents strong support for the development of relations between the two countries".
During the meeting, Sheikh Mohamed extended his condolences to Johnson and his family on the death of his mother recently.
The leaders also witnessed the signing of a number of significant agreements and MoUs.
The UAE continues to strengthen its international relationships & deepen cooperation with countries around the world. Today, I was privileged to join Prime Minister Boris Johnson to witness the signing of a number of significant agreements & MOUs involving our two countries. pic.twitter.com/Q30wyS0j6j

— محمد بن زايد (@MohamedBinZayed) September 16, 2021
The meeting touched on the latest COVID-19 pandemic developments, and the efforts to contain its humanitarian and economic repercussions and the importance of strengthening international solidarity during these circumstances.
It also highlighted the 2021 UN Climate Change Conference (COP26), which will be hosted by the UK next November as well as its importance in advancing global efforts to address the climate change challenge.
Moreover, the two sides exchanged views on regional and global issues of mutual interest and the current developments in the Middle East region and the Mediterranean and the efforts to find a peaceful solution to the ongoing conflicts.
"One of the most important aspects of our developmental projects for the next 50 years is promoting developmental partnerships with various countries of the world, especially with the UK," said Sheikh Mohamed.
He also stressed that Britain shares historic ties and strategic interests with the Arab Gulf region and the Middle East and has a significant role in ensuring their security and stability and dealing with their issues.
His Highness added that the UAE is on the cusp of hosting a major global event, Expo 2020 Dubai.
"We are confident that Britain's participation will pave the way for more opportunities for economic and development partnership between our two countries. In the UAE, we seek to make this event a turning point on the road to promoting global economic recovery, establishing global partnerships, and finding common ground to confront global challenges," he said.
The UK Prime Minister emphasised that his country attaches special importance to enhancing its ties with the UAE.
He also thanked the UAE for its support in evacuating UK citizens, and citizens of many other countries, from Afghanistan.