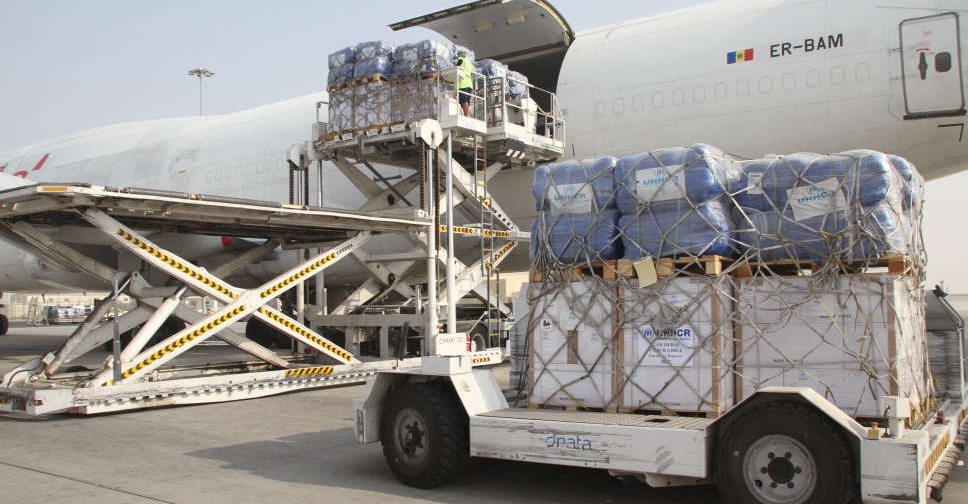 Supplied
His Highness Sheikh Mohammed bin Rashid Al Maktoum, Vice President and Prime Minister of the UAE and Ruler of Dubai, has ordered the establishment of an airbridge to send aid to people affected by floods in Libya.
Relief materials mobilised by the International Humanitarian City (IHC) in Dubai are being dispatched to flood-devastated areas of eastern Libya.
The first aircraft arrived in Benghazi on Saturday, carrying over 36 tonnes of essential items from the stocks of the World Health Organization (WHO) and UNICEF.
On Tuesday, the IHC dispatched a second aircraft to Benghazi, transporting nearly 100 tonnes of shelter, food and telecommunications items from the stockpile of the UN Refugee Agency (UNHCR) and the World Food Programme's United Nations Humanitarian Response Depot (UNHRD) and Fast IT and Telecommunications Emergency and Support Team (FITTEST).
"This activation marks the third humanitarian task force response by the IHC in 2023, in response to unexpected emergency crises across Middle East and North Africa," said Mohammed Ibrahim Al Shaibani, Chairman of International Humanitarian City.
. @HHShkMohd orders airlifts to facilitate the dispatch of relief aid mobilised by the International Humanitarian City (IHC) to support people affected by the major humanitarian crisis in flood-devastated eastern Libya.https://t.co/owriQCg6B1 pic.twitter.com/aVj7cgfEbW

— Dubai Media Office (@DXBMediaOffice) September 19, 2023
Mohammed Al Shaibani, Chairman of @IHC_UAE: Our thoughts and prayers are with the people of Libya in the wake of this tragedy. @IHC_UAE reaffirms its dedication to providing assistance to those affected, and we stand ready with our partners to help alleviate their suffering. pic.twitter.com/cJjwe5qpsR

— Dubai Media Office (@DXBMediaOffice) September 19, 2023
Khaled Khalifa, Senior Advisor and UNHCR's Representative to the GCC countries, lauded the UAE's humanitarian role.
"The humanitarian situation in Libya is catastrophic. The storm and the floods caused massive destruction and great loss of lives and left thousands of people displaced after their homes were destroyed and their properties lost, and they became in desperate need of urgent assistance," he said.
"The delivery of 29 metric tonnes of essential medicines, trauma, and emergency surgery supplies to Libya from WHO's Global Logistics Centre in Dubai's International Humanitarian City stands as a symbol of regional solidarity. Thanks to the generous support of the government of Dubai and IHC, these supplies will reach over 250,000 people," added Dr. Ahmed Al-Mandhari, WHO Regional Director for the Eastern Mediterranean.