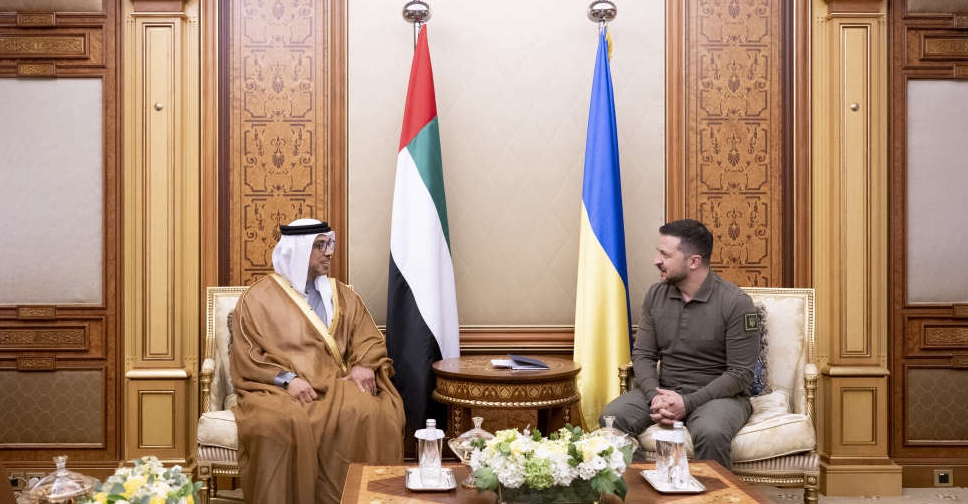 WAM
His Highness Sheikh Mansour bin Zayed Al Nahyan discussed bilateral cooperation with Ukraine's President Volodymyr Zelenskyy and explored avenues to further enhance their mutual interests
H.H. Sheikh Mansour bin Zayed Al Nahyan, Vice President, Deputy Prime Minister and Minister of the Presidential Court, received President Volodymyr Zelenskyy of Ukraine on the sidelines of the 32nd Arab League Summit that began on Friday in Jeddah, Saudi Arabia.
Sheikh Mansour was briefed by President Zelenskyy on the latest developments in Ukraine, highlighting the UAE's unwavering support for peace, stability, and dialogue as essential elements for achieving a sustainable political solution.
The discussions also encompassed the summit's agenda and various other matters of mutual concern.
Sheikh Mansour conveyed the greetings of President His Highness Sheikh Mohamed bin Zayed Al Nahyan to President Zelenskyy, expressing warm regards.
President Zelenskyy reciprocated his regards to President His Highness Sheikh Mohamed, extending his best wishes for the continued progress and prosperity of the UAE and its people.