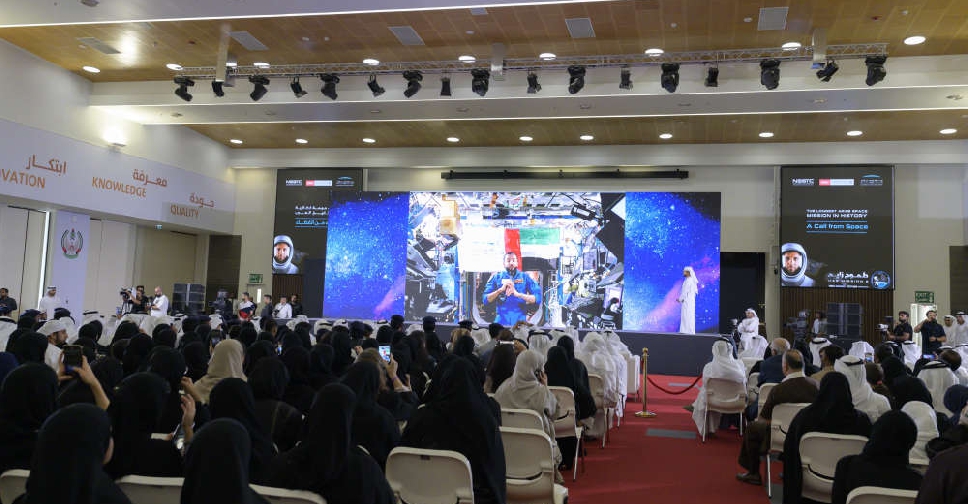 WAM
Emirati Astronaut Sultan Al Neyadi celebrated his 42nd birthday aboard the International Space Station by connecting with over 2,200 people from his hometown, Al Ain, during the fourth edition of "A Call from Space".
The event, held at the Great Hall in Al Ain and organised by the Mohammed bin Rashid Space Centre (MBRSC), provided attendees with the opportunity to learn about Al Neyadi's journey on the ISS.
He expressed his joy and honour at connecting with each person present.
The event highlighted Al Neyadi's achievements and inspired the community, fostering a sense of unity and pride.
Lt. General Sheikh Saif bin Zayed Al Nahyan, Deputy Prime Minister and Minister of the Interior, who was present at the event received a comprehensive briefing on the mission, gaining insight into the remarkable milestones achieved during Sultan's tenure aboard the International Space Station (ISS).
In a speech, Sheikh Saif bin Zayed emphasised the indispensable role of UAE's leadership in enabling the nation's extraordinary achievements.
He expressed sincere gratitude and appreciation to President His Highness Sheikh Mohamed bin Zayed Al Nahyan for his invaluable guidance.
He further added by acknowledging the contributions of His Highness Sheikh Mohammed bin Rashid Al Maktoum, Vice President and Prime Minister of the UAE and Ruler of Dubai, for his significant role in enabling these accomplishments.