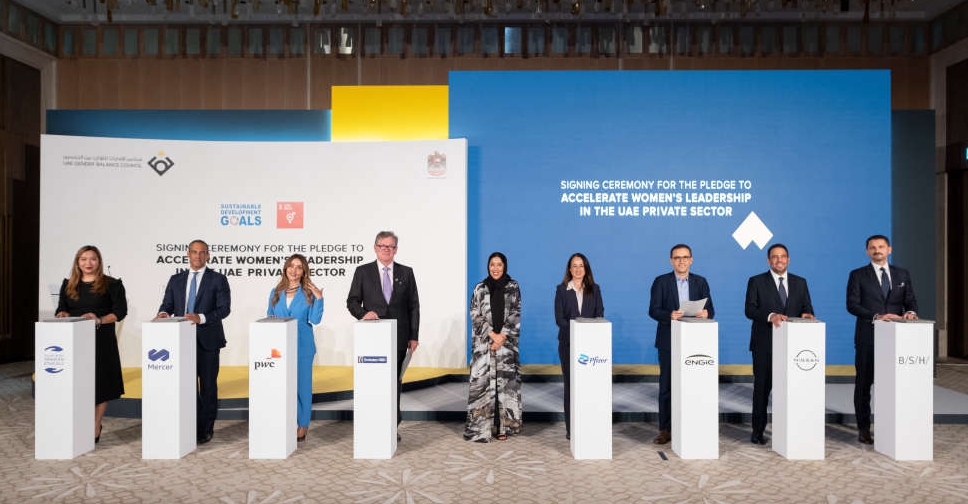 @DXBMediaOffice/ Twitter
The UAE's efforts to advance gender equity in the private sector are bearing fruit.
Eight more national and multi-national companies have joined the 'Pledge to Accelerate Gender Balance in the UAE Private Sector' initiative.
This brings the total number of firms participating in the voluntary pledge to 64.
The initiative aims to enhance gender balance in the private sector by raising women's participation in senior and middle management roles to 30 per cent by 2025.
New companies joining the pledge include Emirates NBD, Pfizer, PwC Middle East, Nissan, Mercer, BSH Home Appliances Middle East, ENGIE, and Arabian Ethicals.
The pledge includes four main pillars: ensuring equal pay, promoting recruitment and promotion on the basis of gender equality, including in senior leadership positions, mainstreaming a gender balance perspective in policies and programmes governing work in companies to support employees, and being transparent.
Her Highness Sheikha Manal bint Mohammed bin Rashid Al Maktoum, President of the UAE Gender Balance Council, said that gender balance is becoming more embedded in the private sector.
She also stressed the private sector's pivotal role in supporting the government's efforts to enhance gender balance in order to achieve economic prosperity, social stability and sustainable growth.
Mona Al Marri, Vice President of the UAE Gender Balance Council added that the UAE is working to meet the challenges of gender balance and bridge gaps in leadership positions through constructive cooperation between the government and the private sector.
The achievement of gender equality is the fifth of 17 UN Sustainable Development Goals (SDGs).
.@UAEGBC announces that 8 major national & int'l companies have joined the "Pledge to Accelerate Gender Balance in the UAE Private Sector" initiative, bringing the number of companies entering this voluntary pledge to 64.https://t.co/79gnNSHRyp pic.twitter.com/72I8xjgkFt

— Dubai Media Office (@DXBMediaOffice) May 24, 2023