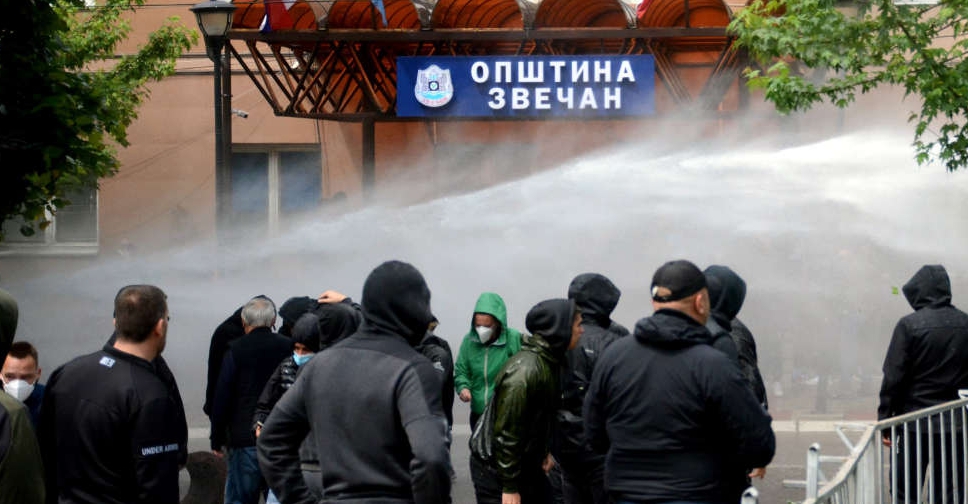 Stringer/ AFP
The United Arab Emirates has expressed concern over the recent tensions between Kosovo and Serbia, underscoring the need to de-escalate, return to dialogue and respect the rules and principles of international law.
The Ministry of Foreign Affairs (MoFA) emphasised the depth of relations and close friendships that link the UAE to both Kosovo and Serbia, highlighting the visit of His Highness Sheikh Abdullah bin Zayed Al Nahyan, Minister of Foreign Affairs, to Belgrade and Pristina during a regional visit in March 2023.
The Ministry expressed the UAE's hope for both countries to return to the commitment to the European Union-facilitated dialogue and implementation of the agreement reached in Brussels in February regarding the normalisation of relations and the road map agreed upon in Ohrid, North Macedonia, in a way that achieves peace and prosperity for the people of Serbia and Kosovo, and the entire region.
Meanwhile, NATO chief Jens Stoltenberg on Sunday called on Kosovo to tone down tensions with Serbia, two days after violent clashes between Kosovan police and protesters opposed to Albanian mayors taking office in ethnic Serbian areas.
Stoltenberg, the transatlantic military alliance's Norwegian secretary-general, said he had spoken to European Union foreign policy chief Josep Borrell about Kosovo.
He said Pristina and Belgrade must engage in the EU-led dialogue.
"Pristina must de-escalate & not take unilateral, destabilising steps," Stoltenberg said in a tweet.
Serbs, who form the majority of the population in Kosovo's northern region, do not accept Kosovo's 2008 declaration of independence from Serbia and still see Belgrade as their capital more than two decades after the war ended in 1999.
Ethnic Albanians make up more than 90 per cent of the population in Kosovo as a whole.
Serbs refused to take part in local elections in April and Albanian candidates won all four municipalities with a 3.5 per cent turnout.
Local Serbs, backed by Belgrade, said they will not accept the mayors and that they do not represent them.
On Friday, three out of four mayors were escorted by police into their offices. Protesters threw rocks at the authorities, who responded with tear gas and water cannons to disperse the angry crowds.
The situation remained tense on Sunday with heavily armed police in armoured vehicles still guarding the mayors' offices.
Spoke to HR/VP @JosepBorrellF about #Kosovo. Pristina & Belgrade must engage in the EU-led dialogue now, as the only way to peace & normalisation. Pristina must de-escalate & not take unilateral, destabilising steps. @NATO_KFOR will continue to ensure a safe & secure environment.

— Jens Stoltenberg (@jensstoltenberg) May 28, 2023