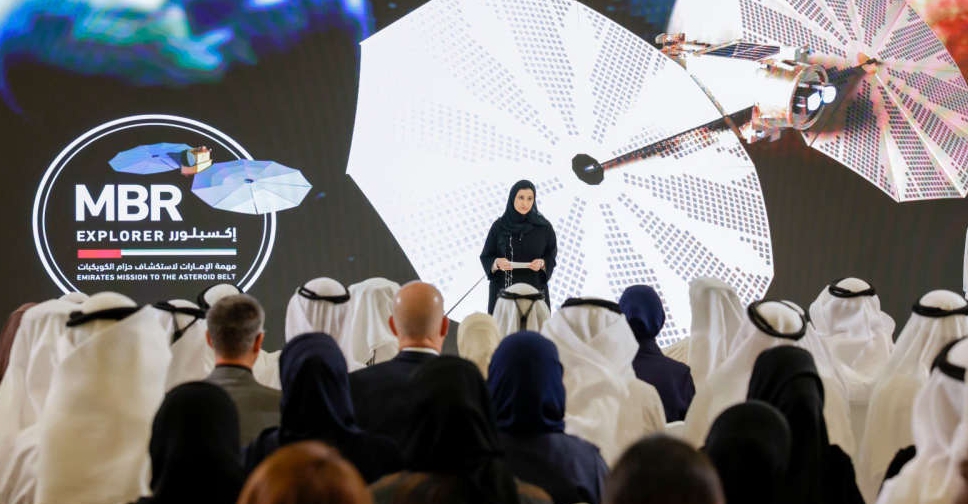 via Twitter @HHShkMohd
The UAE Space Agency has launched its latest ground-breaking expedition into space, the Emirates Mission to the Asteroid Belt.
The entire programme will last 13 years, including six years for development and seven years for the actual exploratory trip, during which the UAE spacecraft MBR Explorer will travel 5 billion kilometres, heading past Mars to explore seven asteroids and landing on the final one in 2034.
Taking to social media following the launch of the mission at Qasr Al Watan in Abu Dhabi, His Highness Sheikh Mohammed bin Rashid Al Maktoum, the UAE Vice-President and Prime Minister of the UAE and the Ruler of Dubai, said the mission "is a huge national scientific project".
The remarkable journey will be 10 times the distance covered by the Hope Probe, Sheikh Mohammed highlighted, adding that "for Emiratis, our motto will always be nothing is impossible".
Sheikh Mohammed said the country can only undertake missions like this because of the capabilities and belief in its youth.
بحمدالله أطلقنا في قصر الوطن التفاصيل العلمية لأحد أهم مشاريعنا في مجال الفضاء "مشروع الإمارات لاستكشاف حزام الكويكبات " . المشروع يستمر 13 عاماً.. 6 سنوات للتطوير و7 سنوات رحلة استكشاف.. ستقطع خلالها المركبة الاماراتية MBR Explorer ٥ مليار كيلومتر متجاوزة كوكب المريخ لاستشكاف… pic.twitter.com/C0peR7JAMe

— HH Sheikh Mohammed (@HHShkMohd) May 29, 2023
Opening a new horizon in space exploration, the MBR Explorer will traverse 10 times the distance covered by the Hope Probe. This pathbreaking mission will be yet another demonstration of Emirati capabilities and our conviction that 'Nothing is Impossible'. pic.twitter.com/sQmdwPfZat

— Dubai Media Office (@DXBMediaOffice) May 29, 2023