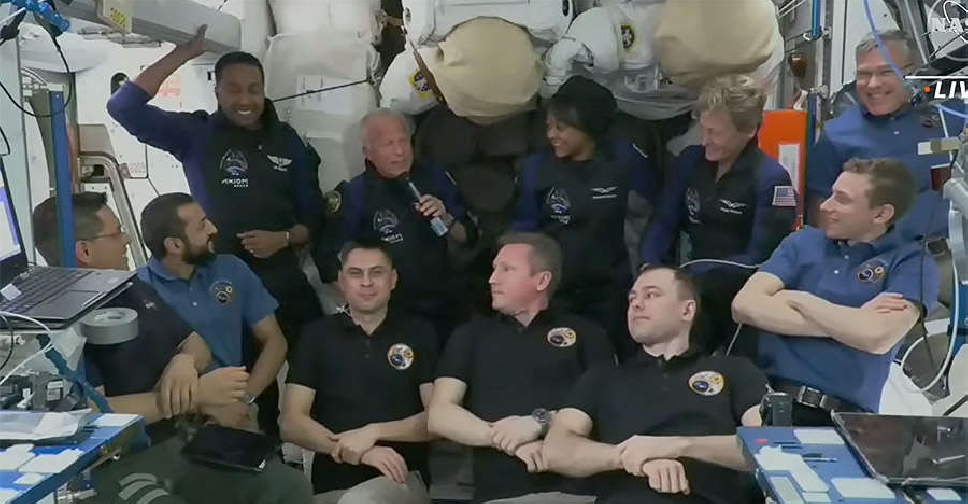 NASA TV
The UAE's Sultan AlNeyadi welcomed Saudi astronauts Rayyanah Barnawi and Ali Alqarni to the International Space Station (ISS) on Monday.
The pair are part of the Axiom Mission 2 (Ax-2), which also includes Americans Peggy Whitson and John Shoffner.
They entered the orbital outpost after opening the SpaceX Dragon crew ship hatch at 11:00 am ET (7:00 pm UAE time).
This is the second mission with an entirely private crew to arrive at the orbiting laboratory.
Barnawi is the first Arab woman on the ISS, as well as the first Saudi woman in space.
The Axiom Space crew are joining Expedition 69 crew members aboard station, including NASA astronauts Frank Rubio, Woody Hoburg, and Stephen Bowen, UAE astronaut Sultan AlNeyadi, as well as Roscosmos cosmonauts Dmitri Petelin, Andrey Fedyaev, and Sergey Prokopyev.
Axiom Space astronauts are expected to depart the ISS on May 30, pending weather, for a return to Earth and splashdown at a landing site off the coast of Florida.
Astronaut Sultan AlNeyadi and his fellow ISS crew members during the welcoming ceremony of the Ax-2 crew, which includes Saudi astronauts Ali Alqarni and Rayyanah Barnawi. pic.twitter.com/QkeTW1RHUP

— MBR Space Centre (@MBRSpaceCentre) May 22, 2023
H.E. Salem Humaid AlMarri, Director General, MBRSC, congratulates the Saudi Space Commission and astronauts Ali Alqarni and Rayyanah Barnawi on the crew's successful arrival at the International Space Station and the commencement of their mission. pic.twitter.com/oIoGVyXxlP

— MBR Space Centre (@MBRSpaceCentre) May 22, 2023