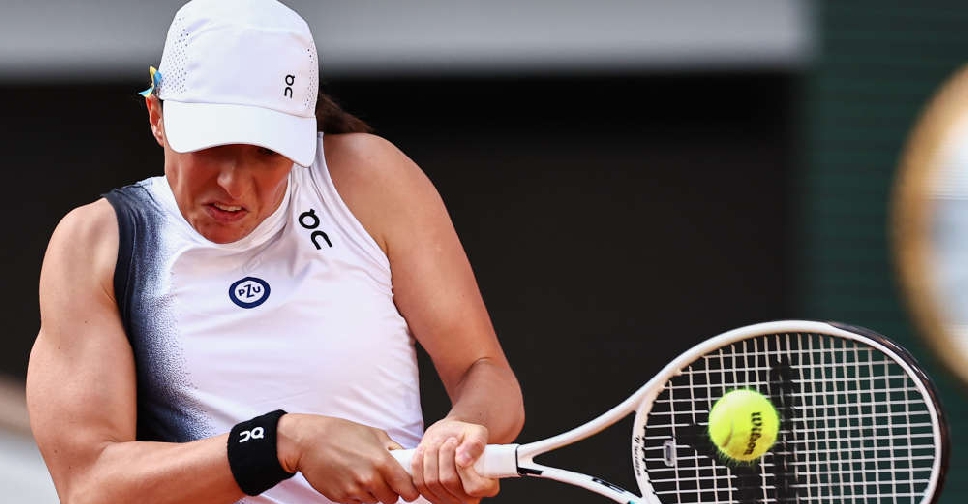 AFP
World number one Iga Swiatek launched her French Open title defence on Tuesday by easing past Spain's Cristina Bucsa 6-4 6-0 to move into the second round.
The Pole, chasing a third French Open title in four years, got off to a sluggish start on a windy afternoon on Philippe Chatrier court.
She had beaten the Spaniard in under an hour, losing just one game, at this year's Australian Open but Swiatek had a less than perfect run-up to Paris, retiring from her Italian Open quarter-final after suffering a thigh injury two weeks ago.
The 21-year-old triple Grand Slam winner was broken twice in her first three service games as a determined Bucsa, ranked 70th in the world, mixed it up and initially succeeded in throwing her opponent off balance.
"I just felt more tense, for sure," Swiatek said. "But I managed to turn that around and not think about all the stuff that is usually bothering when you play your first match."
"You hear a bit more, you have to get used to the stuff surrounding you. I just felt like I needed to gain some information to play more solid. I did that."
The top seed heeded the early wake-up call and bounced back towards the business end of the set, breaking back to seal it.
The Pole, who began her 61st week at the top of the WTA rankings and is the favourite in Paris, snatched another break at the start of the second set with a thundering crosscourt forehand winner and never looked back.
She made amends for her first-set wobble with a bagel as she looks to add to her 2020 and 2022 French Open titles and protect her top spot from world number two Aryna Sabalenka.
"Of course I feel pressure, we all feel pressure," said Swiatek, who turns 22 on Wednesday.
"If I said I don't, I would be lying. I try to work with it and play my game. The most important thing in tennis right now is to cope with it."