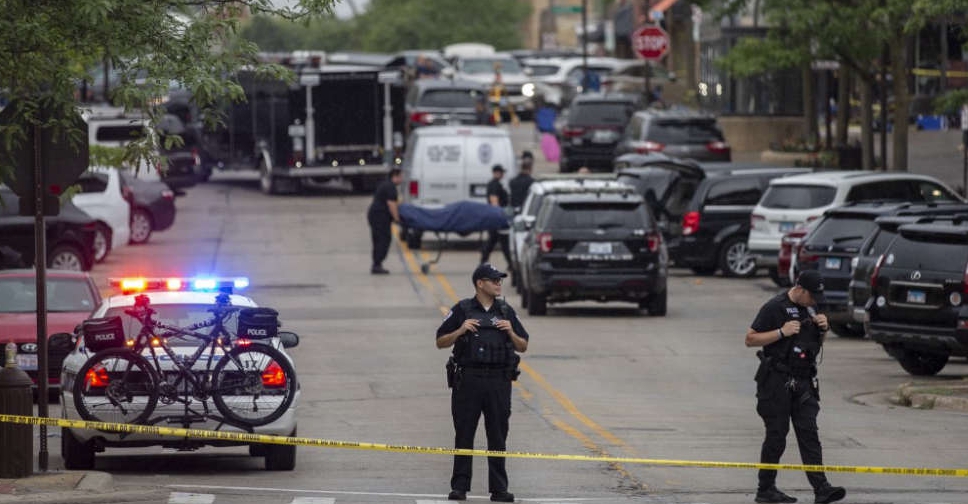 AFP
A gunman, who killed six people and wounded 36 others at a Fourth of July parade in Chicago, has been arrested.
Police said they had a suspect in custody after 22-year-old Robert E. Crimo III surrendered to authorities.
According to initial reports, the gunman had climbed to the roof of a business at the Chicago suburb of Highland Park had used a ladder in an alley.
The gun attack had turned a civic display of patriotism into a scene of panicked mayhem.
Police said they did not know what the motive was for the shooting in Highland Park on Monday. Those wounded ranged in age from 8 to 85, including four or five children.
Social media and other online posts written by accounts that appeared to be associated with either Crimo or his rapper alias, Awake The Rapper, often depicted violent images or messages.
The accounts showed a man with physical characteristics and facial tattoos similar to those in photos of the suspect released by police.
President Joe Biden said he and his wife Jill were "shocked by the senseless gun violence that has yet again brought grief to an American community on this Independence Day."
Biden referred in his statement to bipartisan gun-reform legislation he signed recently but said much more needed to be done, and added: "I'm not going to give up fighting the epidemic of gun violence."
The shooting comes with gun violence fresh on the minds of many Americans. Just hours after the shooting in Highland Park, two Philadelphia police offers were shot near the Benjamin Franklin Parkway as thousands of people celebrated a Fourth of July concert and fireworks show, local officials and media said.
In May, a gunman murdered 19 school children and two teachers at an elementary school in Uvalde, Texas, just 10 days after a man shot dead 10 people at a grocery store in Buffalo, New York.
The latest attack is likely to rekindle the debate about gun control and whether stricter measures can prevent mass shootings that happen so frequently in the United States.