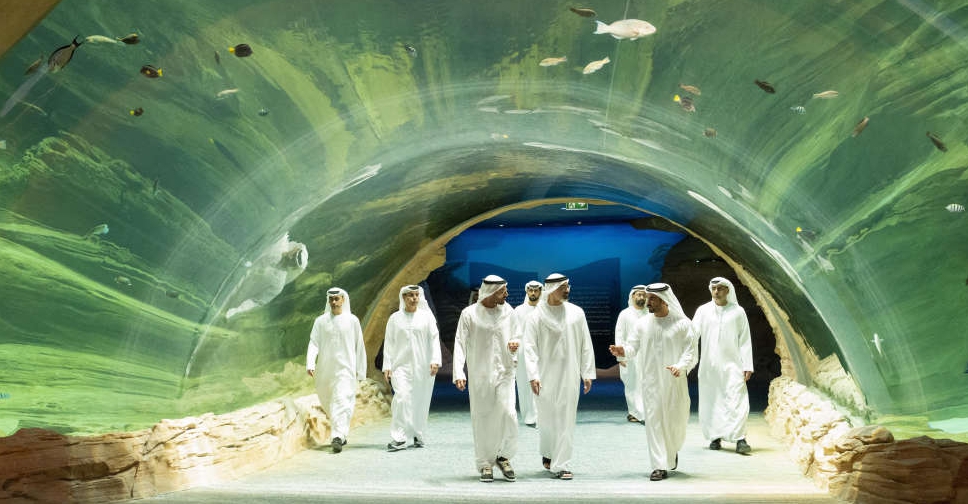 AD Media Office
Ahead of its opening on May 23, His Highness Sheikh Khaled bin Mohamed bin Zayed Al Nahyan, Crown Prince of Abu Dhabi and Chairman of the Abu Dhabi Executive Council, has inaugurated SeaWorld Abu Dhabi.
The newest theme park on Yas Island has been developed by Miral in partnership with SeaWorld® Parks & Entertainment.
Sheikh Khaled toured the attraction and was briefed on its facilities, which span 183,000 sqm, offering entertainment and education themed around marine life to visitors.
He also visited the Yas SeaWorld Research and Rescue – the first integrated research, rescue, rehabilitation, return and education center in the MENA region. Sheikh Khaled reviewed the centre's programmes, which are working to conserve the Arabian Gulf's marine wildlife, habitats and ecosystems while educating and inspiring a new generation of marine enthusiasts.
خالد بن محمد بن زايد يُدشن المدينة الترفيهية للأحياء البحرية "سي وورلد جزيرة ياس، أبوظبي"، وسموّه يطلع على برامج ومبادرات مركز ياس سي وورلد للبحوث والإنقاذ، وهو أول مركز بحثي متكامل في المنطقة يختص بعمليات إنقاذ وإعادة تأهيل الكائنات البحرية وإطلاقها في بيئتها الطبيعية. pic.twitter.com/xvvQI40AOn

— مكتب أبوظبي الإعلامي (@ADMediaOffice) May 20, 2023
As well as offering entertainment, education, and family-friendly experiences, including up-close animal encounters and animal presentations, SeaWorld Abu Dhabi is home to rides and attractions, as well as dining and shopping destinations.
SeaWorld Abu Dhabi is the latest addition to Yas Island's portfolio of theme parks and attractions, including Warner Bros. World™ Abu Dhabi, Ferrari World Abu Dhabi, Yas Waterworld and CLYMB™ Abu Dhabi.
It will opens to the public on May 23.