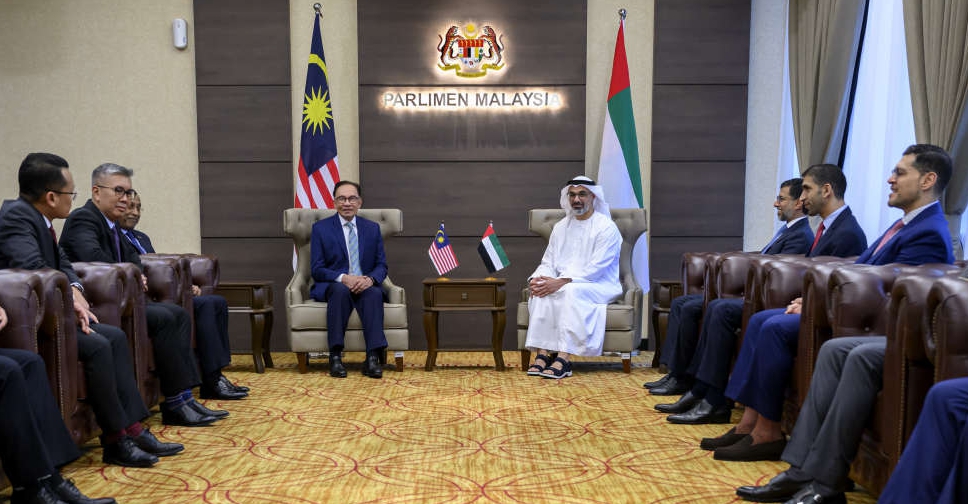 WAM
The UAE and Malaysia have discussed opportunities to expand ties in crucial sectors.
This came during a meeting in Kuala Lumpur between Abu Dhabi's Crown Prince His Highness Sheikh Khaled bin Mohamed bin Zayed Al Nahyan and Malaysian Prime Minister Anwar Ibrahim.
The two leaders explored opportunities in healthcare services, clean energy, infrastructure and transportation projects.
They also discussed strengthening cooperation through the establishment of a comprehensive economic partnership (CEPA) between the UAE and Malaysia.
Khaled bin Mohamed bin Zayed, Crown Prince of Abu Dhabi, has met with the Prime Minister of Malaysia, Anwar Ibrahim, in Kuala Lumpur to discuss ways to further strengthen bilateral ties and cooperation across key areas of mutual interest. pic.twitter.com/3CESLslasv

— مكتب أبوظبي الإعلامي (@ADMediaOffice) May 22, 2023
The two sides agreed to launch the Sheikh Zayed Chair at the Institute of Strategic and International Studies Malaysia, which aims to bridge the gap in study and research around the regions of West Asia and Southeast Asia, and contributes to developing policies and providing scientific recommendations to authorities, decision-makers and civil organisations, as well as to youth.
In addition, they agreed to establish a chair in the name of Sheikha Fatima bint Mubarak at the National Defence University of Malaysia to empower women in the fields of peace and security, and peacekeeping missions at the United Nations, in addition to strengthening existing partnership between the UAE and Malaysia.
Sheikh Khaled expressed his heartfelt thanks and appreciation for the warm reception, and emphasised the UAE's ongoing commitment to enhancing cooperation with Malaysia across various fields.
خالد بن محمد بن زايد، ولي عهد أبوظبي، يلتقي رئيس الوزراء الماليزي أنور إبراهيم، في العاصمة كوالالمبور، لمناقشة سُبل تعزيز التعاون ودعم علاقات الصداقة الثنائية في مختلف المجالات التي تخدم المصالح المشتركة بين البلدين. pic.twitter.com/iyI5ivJ84N

— مكتب أبوظبي الإعلامي (@ADMediaOffice) May 22, 2023