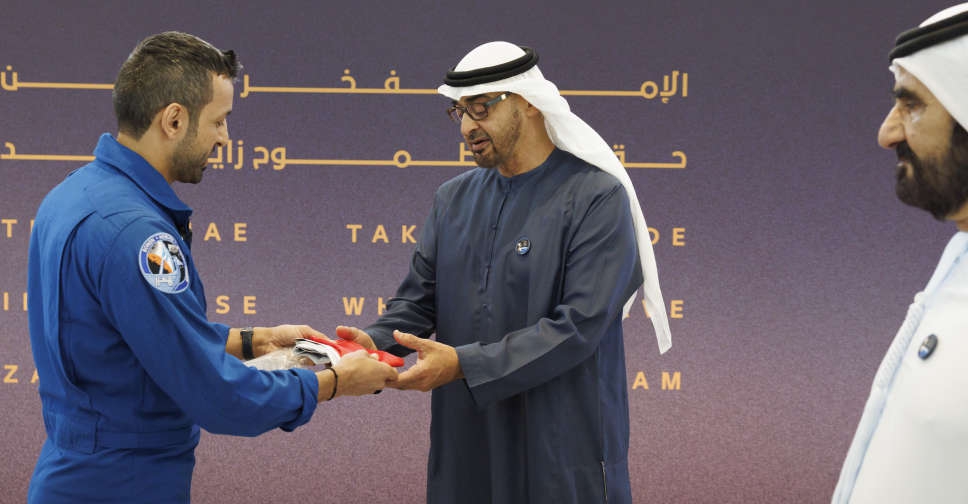 WAM
Emirati astronaut Sultan Al Neyadi returned home to a hero's welcome on Monday after completing the longest Arab space mission in history.
The 42-year-old arrived in Abu Dhabi after spending six months aboard the International Space Station and another two weeks in the US.
Al Neyadi's father and his children greeted him to a warm welcome as he exited the aircraft at Abu Dhabi airport.
The UAE's first long-duration astronaut was later received by President His Highness Sheikh Mohamed bin Zayed Al Nahyan and His Highness Sheikh Mohammed bin Rashid Al Maktoum, Vice President and Prime Minister of the UAE and Ruler of Dubai.
Al Neyadi gifted the UAE flag he took to space to Sheikh Mohamed bin Zayed, who unfurled it before the cameras.
#UAE President and @HHShkMohd receive @Astro_Alneyadi upon his return to the UAE after completing the longest space mission in Arab history, which lasted for 6 months aboard the International Space Station. pic.twitter.com/M3HMj4KcSN

— Dubai Media Office (@DXBMediaOffice) September 18, 2023
عودة البطل إلى الوطن..

رائد الفضاء سلطان النيادي صار الآن على أرض دولة الإمارات.#عودة_سلطان_للوطن pic.twitter.com/aM36g4jxny

— MBR Space Centre (@MBRSpaceCentre) September 18, 2023
Their Highnesses thanked all those responsible for the success of this most recent mission and commended the teams involved in previous missions – including Hazza Al Mansouri's trip to the ISS, the Emirates Lunar Mission and the Mars Mission 'Hope Probe' – and those working on the forthcoming Mission to the Asteroid Belt and the Mars 2117 programme.
Sheikh Mohamed highlighted that the UAE has made great strides in the field of space exploration and stressed the importance of investing today in the future progress of the UAE and the world.
He also praised the commitment, expertise and dedication of the talented teams driving the UAE's progress in the space sector, and reiterated the leadership's trust in the abilities of the nation's youth.
I was honoured to join my brother Mohammed bin Rashid to celebrate the homecoming of our astronaut Sultan Al Neyadi. The people of the UAE are united in pride for his remarkable achievement, which has further advanced our nation's space exploration ambitions. pic.twitter.com/mYUuLEr3Td

— محمد بن زايد (@MohamedBinZayed) September 18, 2023
Sheikh Mohammed bin Rashid said that the UAE Astronaut Programme reinforces the country's vision based on investing in its people, empowering them and supporting their potential.
He added that the UAE aims to develop more young men and women as astronauts to enable further scientific research and exploration, both in space and on Earth.
استقبلت رفقة أخي محمد بن زايد رئيس الدولة حفظه الله رائد الفضاء الإماراتي سلطان النيادي عائداً لأرض الوطن بعد رحلة استمرت ٦ أشهر في محطة الفضاء الدولية ليكون أول رائد فضاء عربي في مهمة طويلة في الفضاء .

وصول سلطان النيادي يمثل محطة رئيسية في مسيرة التطور العلمي لدولة الإمارات… pic.twitter.com/afYNkDZ0UM

— HH Sheikh Mohammed (@HHShkMohd) September 18, 2023